SHROPSHIRE'S PREMIER DOG CARE & CARDIO SPECIALISTS
Here at Dog Jogs & Adventures, we know it's vital to provide your dog with proper exercise and mental stimulation. Dogs are pack animals with a keen desire for social interaction but without the opportunity to follow their natural instincts, behavioural issues can often arise.
With our adventure walks and dog jog services, you can give your dog the regular exercise, care and stimulation it deserves by allowing it to:
Stay happy, healthy and out of mischief

Be mentally stimulated through breed-specific sensory games and activities

Be agile and physically fit

Interact with other friendly dogs (Remember: dogs are pack animals)

Maintain the correct weight for breed through increased exercise

Reduce/eradicate behavioural problems

Be both mentally and physically satisfied ready for arriving home
DO YOU…..
Work long hours and worry about leaving your dog home alone?
Own a high energy breed whose enthusiasm is just too much to handle after a hard day?
Then you don't just need a dog walker, you need Shropshire's premier dog exercise specialist – Dogs Jogs & Adventures
ADVENTURE WALKS
Premium

1.5 hours in length
ADVENTURE WALKS
Standard

45 mins in length
DOG JOGS
Exclusive

30-60 mins in length
AREAS WE COVER
We are a Shrewsbury-based company covering a 10-mile radius of Shropshire. Click on our map to see if we 'run' in your area. If you can't see your location then why not contact us to check if we can help?
'Emma has been caring for our 12 month old Bearded Collie, Martha since she was 4 months old.
We needed someone knowledgeable with a love of dogs to not only care for our beloved pet  but to understand the needs of a boisterous, growing pup!!
Emma is brilliant.  From day 1, on the two days a week that she has Martha, she has been instrumental in supporting us with her development, from socialisation with other dogs,  learning through play and promoting good behaviour. 
I highly recommend Emma to anyone looking for more than just a dog walking service. It's great to go to work knowing your dog is spending time being active and having fun.
Thank you Emma.'
Jackie, Alan & Martha Corfield, Shrewsbury
I love using Dog Jogs & Adventures. I am totally confident that our lovely Jasper is in good, careful hands.  He always comes back happy and tired. Emma also appreciates that while Jasper loves attention and affection he is expected to listen!  He comes back with good manners intact. This is equally as important as him having a good run.
C Whelton, Shrewsbury
RIVER, 1 YEAR OLD CAVAPOO
River is a shy but playful girl who absolutely loves people. She loves to play with her toys and bound about frantically with the rest of the team. She is such a sweet little lady and we are so pleased that she is part of our Dog Jogs team.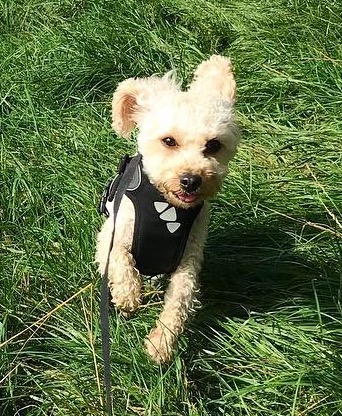 This error message is only visible to WordPress admins
Error: No connected account.
Please go to the Instagram Feed settings page to connect an account.